Addressing God: A Study in Psalms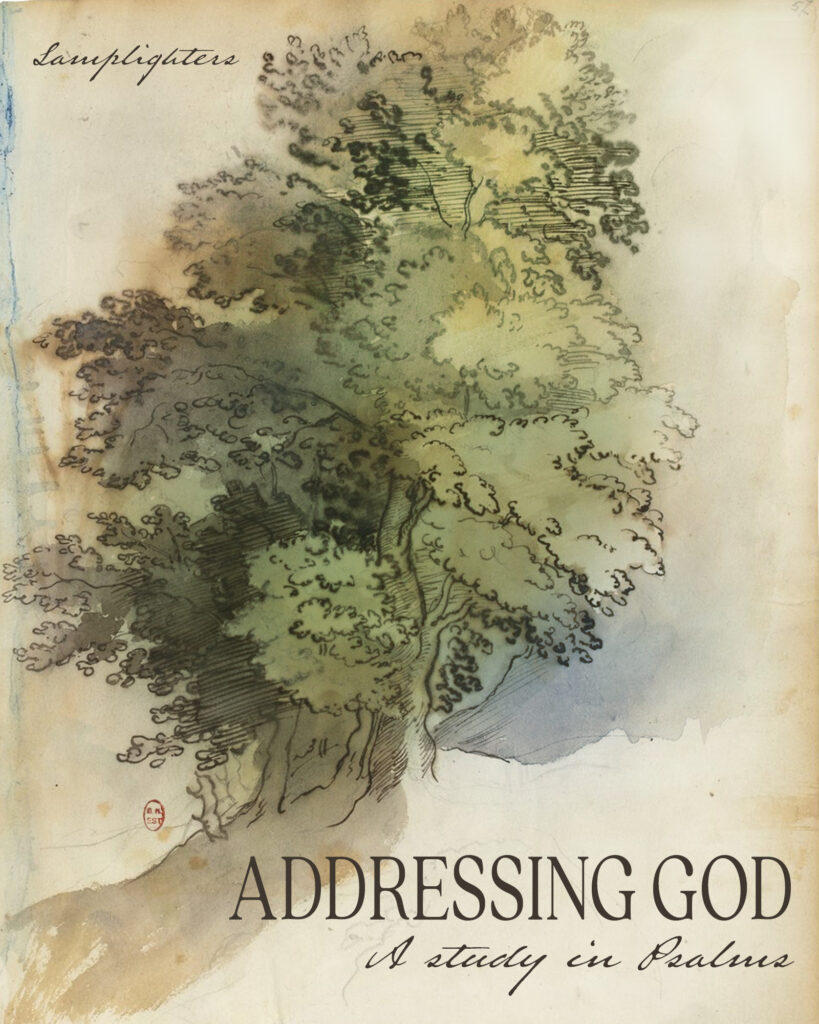 Come and explore with us, diving into the psalms, which speak to our hearts and invite us into an intimate relationship with the God whom the psalmists knew so well. Through the study of God's Word, small groups, and podcasts we will be transformed by the very prayers and songs that Jesus knew by heart.
Each Monday our weekly podcast, taught by our Lamplighters Teaching Team, will be uploaded.
Weekly Lessons
Interview with Phaedra and David Taylor : September 7
Bono & Eugene Peterson : THE PSALMS – YouTube
Introduction and Overview : September 14
Lesson 1 : The Two Paths : September 21
Lesson 2 : Trust : September 28
Lesson 3 : Despair and Hope : October 5
Lesson 4 : Refuge and Rescue : October 12
Lesson 5 : Anxiety and Fear : October 19
Lesson 6 : Doubt and Unbelief : October 26
Lesson 7 : Comfort and Peace : November 2
Lesson 8 : Loneliness : November 8
Lesson 9 : Thanksgiving : November 16
Reconnect : January 11
Lesson 10 : The Glory of God & His Creation : January 18
Lesson 11 : Thirsting for God : January 25
Lesson 12 : Safety and Protection : February 1
Lesson 13 : Lost and Found : February 8
Lesson 14 : Anger and Injustice : February 15
Lesson 15 : Personal Lament : February 22
Lesson 16 : Communal Lament : March 1
Lesson 17 : Conflict and Judgement : March 8
Spring Break : March 17
Lesson 18 : Confession and Forgiveness : March 22
Lesson 19 : Salvation : March 29
Holy Week and Easter : April 5
Picnic : April 19
Resources for
Addressing God: A Study of Psalms
Books:
Psalms, The Prayer Book of the Bible by Dietrich Bonhoeffer
Praying the Psalms by Thomas Merton
Answering God, the Psalms as Tools for Prayer by Eugene Peterson
Open & Unafraid by W. David O. Taylor
Websites:
Bono and Eugene Peterson : THE PSALMS – YouTube
Devotionals:
David's Crown by Malcolm Guite (short poems inspired by each psalm. Just ignore the Latin if you aren't familiar. ☺ )
The Songs of Jesus by Timothy and Kathy Keller
Praying with the Psalms by Eugene Peterson
Commentaries:
Walter Brueggemann. The Message of the Psalms
Warren Wiersbe. Be Worshipful, Psalms 1-89
Warren Wiersbe. Be Exultant, Psalms 90-150
Other Studies:
The Pilgrim's Path by Elizabeth Head Black
Stepping Up, a Journey Through the Psalms of Ascent by Beth Moore
Glorifying God for Who He Is, the Psalms by Warren Wiersbe
Study Tips:
Timothy Keller in The Songs of Jesus: ask and write your answers.
Adore—What did you learn about God for which you could praise or thank Him?
Admit—What did you learn about yourself for which you could repent?
Aspire—What did you learn about life that you could aspire to, ask for, or act on?
Communal Lament : Laura Tuma